You will fall in love with the Spyder Takedown at first sight.
Unlike your typical bow, the Spyder is made of different world-class materials and technology resulting in a sleek, polished piece of art. It is a product of the famous Southwest Archery; a team of people who have been in the industry for more than two decades.
The company is known for high-quality archery products, fair prices, and outstanding customer service. You won't go wrong with Southwest Archery.
The Spyder recurve bow is one of the best takedown recurve bows on the market and is very light and has a vast range of draw weights.
Just like the Tigershark Takedown, this one is similar to the Samick Sage but more improved.
Quick Summary of The Features and Specifications
Made from a combination of four types of woods
Available for both right and left handed archers
Draw weights range from 20lb – 60 lb (5 lb increments)
Super lightweight
Suitable for all skill levels
Comes with preinstalled threaded bushings
Compatible with Flemish and Fast Flight string
Package includes a three-piece bow, arrow rest, Allen wrench for assembly, 14-strand Dacron string, adhesive arrow rest and a manual
Reinforced limb tips
Great for target archery, bow fishing, and hunting
Comes with a one-year manufacturer warranty
Well-rounded edges and limb pockets
The bow looks and feels more streamlined than the Sage
Has an optional ready-to-shoot premium package
Allows for upgrades and customization
Bow length: 62 inches
Closer Look At The Features and Specifications
The Spyder Takedown has been made using a combination of four naturally sourced types of wood. All these woods are ultra strong, yet light. This four-wood combination does not only result in an extremely beautiful look, but it also enhances the performance of the bow. You will notice that it feels compact and steady. Any archer can use it regardless of skill level. Just make sure you choose the right draw weight for you.
This bow is available in both right and left hand orientations. If you hold your bow with your left hand and draw the string with your right, make sure you choose the Spyder Takedown with a right-handed riser. On the other hand, if you hold a bow with your right hand, choose the left-handed riser. You understand your hand orientation better and know which hand riser is comfortable for you. The choice to include both hand orientations is to ensure that archers are comfortable and shoot with precision despite their hand orientation.
The Spyder recurve caters for a wide range of draw weights. Different archers have different draw weights. It would be really unfair to have a bow as nice as this one available in a small range of draw weights. Southwest made this bow to be enjoyed by all archers with draw weights of between 20 lbs and 60 lbs (increments of 5 lbs). While making a purchase, be sure to choose the version with the right draw weight.
It already has preinstalled threaded bushings to allow you the freedom of making any upgrades you may desire in future. The limbs are also replaceable with reinforced limb tips making it Flemish and Fast-Flight string compatible. Huge companies like Southwest Archery make their products for a myriad of archers. Therefore, they usually try to find a balance between generic and personalized in a way that will make all archers happy. These threaded bushings help you make your bow perfect for you by making upgrades like sights, mechanical rests, plungers, stabilizers, etc.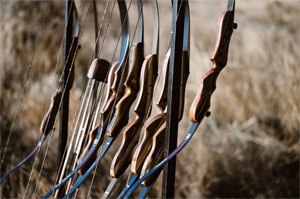 The riser features an ergonomic design that naturally fits into your hands. If you have seen or used the old bows then you know they are anything but comfortable. Your grip feels unnatural on them and if you use them for long you may end up with a sore hand. The Spyder Takedown's riser is handcrafted and fits the natural position of your grip so it feels comfortable.
The Spyder Takedown kit includes a handcrafted riser, 14-strand Dacron string, pair of limbs, adhesive arrow rest, and a detailed manual. This is just the primary package and does not include a stringer tool. You can choose an option that includes it or even go for a complete ready-to-shoot package—that is available. It includes a bow, arrow rest, bowstring, stringer tool, hard case, three carbon arrows and an armguard.
If you have a draw length of more than 29" and feel that the Spyder Takedown can fall short in some ways, Southwest has a Spyder Takedown XL version. It also has a premium package option so you will not miss out on anything.
Lastly, the Southwest Spyder Takedown recurve bow comes with a one-year warranty. Southwest bows are affordable. They are also amazing in every other way. The company backs this all up with their manufacturer warranty. Ensure that you register online after making your purchase.
Why You Should Buy The Spyder Takedown Recurve Bow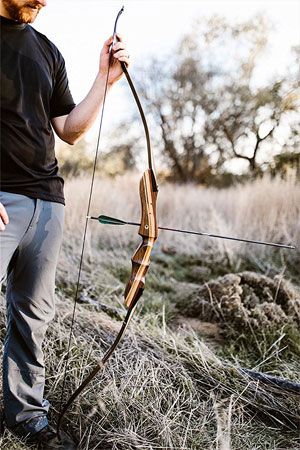 The Spyder is lightweight and compact. The good thing about a light bow is that you can effortlessly carry it to your archery spot or to a hunting adventure. Why should you be stuck with a bulky bow when the Spyder is available at a fair price? It is also a suitable bow for kids and you can change the limbs when the need arises.
The premium ready-to-shoot package is irresistible. Along with the Spyder bow, you get a hard case, three arrows, stringer tool and an armguard. The case is super classy, designed specifically for the Spyder Takedown and its accessories. It keeps everything together and safe. It allows you to travel with your archery equipment anywhere; plus, it is lockable and approved for airlines.
Another reason to buy this bow is that it offers so much room for upgrades and personalization. The limbs are replaceable and the process is super easy. People change limbs to alter draw weights. Different archers will require different draw weights, depending on experience and strength. Instead of buying two bows, just change the limbs. Another thing, with a quality riser like this one, when the bow gets worn out all you need to buy is a new pair of limbs—not a whole new bow. The pre-installed bushings allow for a wide range of accessory upgrades.
This bow is very similar to the Samick Sage and you may be wondering why you should buy it, seeing that the Samick Sage is cheaper. First, you will not get the well-rounded edges with the Samick Sage. The Spyder's riser is ergonomically designed and offers a kind of comfort that you will not get with the Sage. If you consider this and all the other enhancements on the Spyder, you will realize that it is well worth the price.
As already mentioned, the Spyder Takedown has so many options when it comes to the draw weight. Every archer has been considered here, from beginners to pro archers. You can choose the best draw weight from 20 lbs to 60 lbs. For archers with a draw length of more than 29", the Spyder XL is for you. It is also available in a range of draw weights too.
The Spyder Takedown recurve bow looks good, is high-quality and sturdy and comes with a one-year warranty. If you are still hesitant, this should convince you that it is worth buying. The four types of wood used to make the bow look really nice and you will be proud to show it off wherever you go. Being sturdy and high quality, you can be sure that this bow will be your archery partner for a long time.
The Downside
It is not tool free. Takedown bows are amazing. They are easy to transport, store and customize. It would be nice to have one that does not require tools as the process would be simpler. However, the Spyder does not offer this luxury. You have to use a stringer tool for assembly and disassembly (it is not safe to do it without the stringer). The tool is not included in the primary package so obviously, you will have to spend some extra money on it.
Most archers will tell you that a 14-strand Dacron bowstring would not be their first choice. It is not necessarily poor quality but again, depending on your type of archery you may prefer a stronger string—most archers do. Nevertheless, do not let this be the reason you pass on the Spyder Takedown. It is Fast Flight and Flemish string compatible, so this should not be a deal-breaker for you.
Customer Feedback
The Spyder Takedown recurve bow has exceeded many people's expectations.
Archers have commented on the packaging since that is obviously the first impression. The bow comes very nicely packaged. They say that it is beautiful, even more than it appears in the pictures. Many of them have not had a problem with assembly. If you have some experience, everything is straightforward and you might not even need the manual. For beginners, the assembly process is easy, expect no trouble.
The rounded edges have also been mentioned in the reviews. Customers think that Southwest Archery put a lot of effort into the final finish, which is a good thing. They love the ergonomic riser that fits really comfortably into the hand.
Archers of all skill levels are really enjoying the Spyder Takedown. It is light and most of them are having fun traveling with it. The bow shoots arrows with much precision and speed. The users could not be happier with it.
Generally speaking, archers love their Spyder Takedown recurve bow.
Our verdict
With more and more people getting into archery, you are bound to see many brands of bows in the market. To avoid making poor choices, look for a manufacturer you can trust; one that has been in the industry long enough like the Southwest Archery.
The Spyder Takedown is an awesome recurve bow that promises to make your archery adventure worth every second. It has been built to last and looks fantastic. It is light and if you get the case, you can go with it anywhere you have ever wanted to go with your bow.