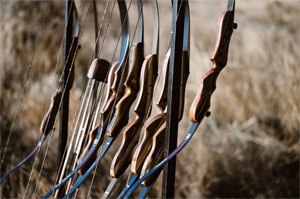 The Southwest Archery Tigershark takedown bow is mostly a favorite among new archers but it is meant for any archer. The Tigershark may be the best takedown recurve bow currently available.
This 62" recurve bow is an elegant piece of art that is more of a Samick Sage upgrade.
It is strong and sturdy, yet flexible for unparalleled performance. Every material used for this bow has been carefully picked to ensure its durability.
The design is probably the first thing you will notice about the Tigershark Takedown. It is slim, with smooth edges and a polished finish.
It is also surprisingly lightweight which makes it portable—that and the takedown feature.
Read on to understand exactly what the Tigershark has to offer.
Quick Summary Of The Features And Specifications
Built from a combination of four types of wood
Compatible with Flemish and Fast Flight string
Available for both right-handed and left-handed archers
Already installed threaded bushings for future accessory upgrades
14-strand Dacron bowstring
Draw weight: 25-60lbs (depends on model)
Includes a stringer tool
Super lightweight and portable
Bow length: 62 inches
Includes optional accessories in the package
Available in Standard and Pro version
Beautiful satin finish
One-year manufacturer's warranty
Closer Look At The Features and Specifications
The Tigershark Takedown has been designed by the developers and engineers of the legendary Samick Sage. By combining four kinds of naturally sourced woods, they have created a sleek and beautiful recurve bow that not only performs impeccably but also has an amazing modern look. The limb tips are reinforced making it Flemish and Fast Flight string compatible.
This recurve bow is available for both right-handed and left-handed archers. Southwest Archery thought of every archer in making of the Tigershark. Gone are the days when bows were generic and you had to make it work depending on your hand orientation. Now you can get the one that is meant for your specific orientation and go on to make the most out of your archery experiences.
It comes in two versions; the Tigershark Pro and the Tigershark Standard version. The Pro version has a precision pin-locking technology that ensures exact limb placement. This translates to a reduction in the overall weight and enhanced accuracy. Both versions have already installed threaded bushings to allow you to make accessory upgrades later. The upgrades may include sights, stabilizers, quivers, mechanical rests and even bowfishing reels.
The archery set includes a beautifully handcrafted riser, a pair of limbs, a 14-strand Dacron string, a stick on arrow rest (or arrow shelf rug rest) and a step-by-step manual. When placing your order, you can choose to have a stringer included or not. You cannot safely assemble and disassemble your bow without a stringer tool; so if you do not have one, have it included.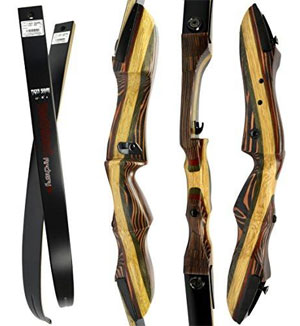 The Tigershark is very light. It weighs only three pounds which means you can go for long hunting trips without being weighed down by heavy equipment. It is also a takedown bow. When traveling, you just disassemble it into smaller pieces and fit it in a smaller bag. If you have the stringer tool, there is no place you cannot go with your recurve bow.
The draw weight ranges from 25 pounds to 60 pounds (in 5 pounds increments), depending on the model you choose. This makes the bow versatile and you can use it for any form of archery. In most places, especially in the USA, bows have to meet a certain set of standards to be used for hunting. You can check with your state then get the bow that will be perfect for what you want to do.
The four types of wood used and the other materials are all heavy-duty. The bow is designed to give you quality service for a long period of time. It will be a very long while before you have to replace it; except for the bowstring. The string goes through a lot and every few years you will have to replace it. This is the case with every bow. The other parts can take a lot of use and abuse.
Finally, the bow is backed by a one-year manufacturer warranty. In addition to getting a superior quality bow at a very affordable price, you get a one-year warranty—just make sure you register online. This gives you confidence in the Tigershark.
Why You Should Buy The Southwest Archery Tigershark Takedown Recurve Bow
This recurve bow is versatile. Because of its design and the wide range of draw weights, this is the perfect bow for someone who is looking for flexibility. From target archery to professional hunting, there is nothing the Tigershark cannot do. It is even more suitable if you want a bow that can be used by different people.
The bow allows for alteration and customization. First of all, it is a takedown bow which means you can change the limbs. If you will be sharing the bow with a child or at some point you want to change the draw weight, you can simply change the limbs. Another thing, thread bushings are already installed to allow you to make optional upgrades like a sight and stabilizer.
It is an affordable bow with unparalleled quality. Bows can be crazy expensive. Every archer knows that you can never skimp on a bow. That is why sometimes they would dish out a significant amount of money to get one that is well made. But what if you could get a premium recurve bow at a very attractive price? No need to strain yourself financially for a quality bow.
The Tigershark recurve is a very beautiful piece of art. You definitely want to be the guy with the cool bow. The woods used and the satin finish give the Tigershark a sleek look. You get a fine-looking recurve bow without compromising on quality or dishing out a large chunk of money. This really is the perfect bow.
You can carry it anywhere. It is highly unlikely that you will be doing all the archery in your backyard. More often than not, you will be required to carry your bow around. You, therefore, need one that will not pose any challenges. The Tigershark is very light, even a young archer can carry it effortlessly. Being a takedown recurve bow, you can disassemble it when traveling over long distances to make carrying it easier.
Buying the Tigershark Takedown is a safe bet. The guys at Southwest Archery are sure that they put their best into the making of this bow. They had accomplished developers working on it using state of the art materials. They know their word is not enough so they back it up with a one-year manufacturer warranty to give some assurance.
The Downside
The 14-strand Dacron string that comes with the recurve is not the best. Your dislike or like for this string will depend largely with the type of archery you are in to and the amount of archery you will be doing. It cannot be completely ruled as a poor quality string but it is not of the highest quality. Most archers prefer a Fast Flight string because of its strength and commendable durable.
You may not find it outrageously loud but it is not completely silent either. A number of people may not be bothered by the noise. In case you like it totally quiet, invest in a string silencer. Again, this is not a deal breaker. It is not like you will be shooting in a quiet environment anyway—unless you are hunting.
What Users Are Saying
Users are usually very honest. They have nothing to gain or lose and they always speak the truth based on their first-hand experiences.
Starting with the look, archers agree that it looks fantastic. It is refined and smooth with a commendable finish. A user even describes the colors as phenomenal. The make is great and everything is high quality. Although is super sturdy and solid, the weight is just perfect. Nobody has had a problem with the assembling and disassembling process. It is all quite simple. It also has a smooth draw. The only issues mentioned include the noise level and the bolts on the limbs will require you to have an Allen wrench with you all the time. Otherwise, it is generally agreed that the Tigershark Takedown is the best affordable recurve bow.
Our verdict
Clearly, there is nothing negative to be said about the Tigershark. Southwest Archery seems committed to giving their customers nothing less than perfection. The finish is amazing and all parts are made of great, durable materials. You can choose between the Pro or Standard version (although the Pro version costs more). There is room for customization and upgrades and that is a huge plus. You will not get a better bow at this price range.