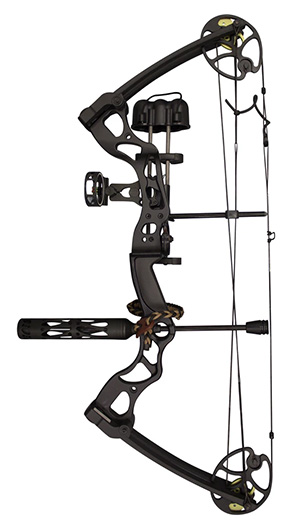 SAS bows are some of the best bows around. The SAS Outrage, in particular, is a fantastic piece that can be used by archers of all body sizes. Although many sites imply that it is an entry-level bow, you will see from the features that anyone can actually use it, including seasoned shooters. It is priced affordably and if anything will limit you from buying it, it will definitely not be your budget. For an amount below $200, you can walk away with this bow that is unbelievably good for that price.
The SAS Outrage is made by Southland Archery Supply (SAS). This company is famous for making all kinds of outdoor equipment. SAS bows are especially popular among archers. For the longest time, they catered for people that love to spend time exploring nature. However, as from 2007, Southland Archery Supply shifted their focus to archery products. Since then, they have committed themselves to offer quality hunting equipment at an affordable price. They understand that archery is an awesome activity and no one should miss out because they cannot afford the necessary equipment. They still use heavy-duty materials in their production and they have world-class engineers and developers.
The SAS Outrage is one of the top 10 compound bows on the market and comes with so many amazing features. Its design is simple which makes it very easy for newbies and kids. This solid compound bow has a well-made riser made of aluminum and the manufacturer has drilled holes to allow for the use of virtually any accessory. If you want, you can attach your quiver too, there are holes in the bow for that. Like all other great compound bows, it is highly adjustable and super versatile. It comes in a great size and launches arrows at a terrific speed. There is so much more you get with the SAS Outrage — all the features and benefits could never fit in one paragraph. So, how about you go through the review and get all the details.
Summary of Features and Specifications
Riser made of aluminum
Features an eccentric dual cam system
Compressed ABS limbs for durability
Only available for right-handed archers
Split limb design
Comes in three colors; black, autumn camo and green camo
Pro package includes bow sight, quiver, arrow rest, peep sight, sling, D-loop, limb dampener, stabilizer and wax
Draw weight is adjustable 55 lbs – 70 lbs
Draw length is adjustable 26" – 30"
Axle-to-axle length is 35"
Weighs 4.4 lbs
Shoots at a speed of 270 FPS
Has a let-off of 70%
Closer Look at the Features and Specifications
The SAS Outrage is a well-made compound bow. The riser is built using aluminum. This allows it to be solid and durable but still lightweight and comfortable to use. The cams are also made of aluminum. The limbs are made using fiberglass—like most bows. The construction of this compound bow is reliable. You will not have to worry about your precious weapon falling apart in the middle of an archery adventure.
This compound bow has an eccentric dual cam system. The dual cam system helps with the adjustability in a bow. Other than that, this cam system ensures accuracy—this is one of the areas where it is superior to a single cam system. Another area is maintenance. Dual cam system bows are way easier to maintain. You only need to check that the cams are in sync occasionally. This happens when the string stretches so it does not occur often. Lastly, dual cam bows, including the SAS Outrage, tend to be very fast.
The SAS Outrage can be used by right-handed shooters. As long as you hold the grip with your left hand and draw with your right, this bow is perfect. You get to enjoy the ergonomic plastic handle that is comfortable even in cold weather. For the left-handed shooters, this may not be the bow for you but there are other awesome bows. If you really like it anyway, buy it for a friend or family member—they will definitely love it.
It features a split limb design and the limbs are made using fiberglass. Most manufacturers are now preferring composite materials to fiberglass. However, fiberglass bows are cheaper to make and are, consequently, more affordable. There is nothing wrong with bows made using fiberglass as the material is impeccably durable. The split limb design ensures durability. Moreover, split limb bows are lighter than solid limb bows; which is a huge plus.
The SAS Outrage is available in three colors; black, autumn camo and green camo. Honestly, you will have a hard time choosing from these three colors. They all look so good. The black one looks classy, and being—well, black—you will still be able to maintain your cover. The autumn camo one is a little brighter and is absolutely gorgeous. The green camo SAS Outrage looks lethal; it would suit the archer that almost never misses.
The draw weight is adjustable 55 lbs to 70 lbs. This range of draw weights is just what you need for hunting. When it is set to the lowest draw weight, 55 lbs, you can take down the small and medium game. No deer, antelope and any other animal of the same size or smaller can survive a shot from the SAS Outrage. When set to 70 lbs, you will be unstoppable out there, taking down animals that are considered tough game will not be such a difficult task. The adjustability feature means that you can change the draw weight (and easily so) to fit whatever you are doing.
The draw length is adjustable 26" to 30". Archery experiences are more fun when they are shared. This wide range of draw lengths allows you to shoot with your loved ones without having to buy a bow for everyone. Archers' draw lengths vary with body sizes and unless you buy an adjustable bow, you will have to buy for everyone. Thankfully, the SAS Outrage can be used by people of almost all body sizes. This means that you can buy it for yourself and have your kids shoot it sometimes. If you already have an advanced bow, you can buy this bow specifically for your kids.
The axle-to-axle length of the SAS Outrage is 35". This is basically the length of the bow. This feature is important when you are picking out a bow. The axle-to-axle length affects the accuracy of a bow. Longer bows are generally more stable and, consequently, more accurate— this is especially true for beginners. Now, how long is too long or how short is too short depends on your height and probably your level of experience. 35" is a great length for many archers, especially beginners because it is forgiving.
It shoots at a speed of 270 FPS. When people are buying bows, they consider the main features such as the draw weight and draw length and forget features such as speed. You may have a bow with the perfect draw weight and draw length but you will still not be happy with it if the speed is below average. When hunting, you want to kill the animal instantly (this is humane). When an arrow is very fast, it penetrates deeply and makes the death quick. It also enhances the arrow's trajectory and accuracy. The speed of 270 FPS ensures all that.
The let-off is 70%. Compound bows are quite mechanical. One of the benefits of this is the let-off feature. It allows you to hold just a portion of the draw weight while the rest is held by the bow. In this case, the bow bears 70% of the draw weight. If the draw weight is set to 70 lbs, you will bear only 30% (100% -70%) of the weight.
RELATED: Raptor Compound Bow Review
Package Contents
When you buy the SAS Outrage from Amazon, you get to choose what is included in the package. You can buy the bow without any accessory, with a few accessories or with full accessories.
The first package option consists of the bow only, nothing else—well, maybe a manual.
The second package option is the Pro Package. It includes:
SAS Outrage compound bow
Trophy Ridge arrow rest
Tube peep sight
5-pin bow sight
Quick detach quiver
Neoprene sling
D-loop
Limb dampener set
Aluminum stabilizer
Lube wax
The final package comes with full accessories; everything that an archer may need. In addition to the contents of the Pro Package, this package includes arrows, broadheads, a custom bow bag, among other things. If you want to buy everything at once, this is the best option.
Why You Should Buy the SAS Outrage Compound Bow
First of all, it offers you three buying options, the best one being the Pro Package. This package is cheap. It goes for a little over $250. Included is almost everything you might need; wax, dampener, stabilizer, sling, D-loop, peep sight, pin sight, quiver and an arrow rest. The only thing you will have to buy before you begin shooting is a set of arrows. Finding the right arrows may be difficult but you can check the kind of arrows offered in the full accessories package to get an idea of what you should look for.
It is affordable—unbelievably so. Compound bows are crazy expensive. As you shop around, you will see price tags that will make your jaw drop to the floor. You will realize how thoughtful Southland Archery Supply is to make affordable bows. The good thing is that SAS bows are just as durable as some of the more expensive ones. You will not be foregoing quality and durability if you opt for this affordable piece.
The SAS Outrage is well-made. As mentioned above, just because this bow is cheap does not mean that is will fall apart after you shoot a few times. As a matter of fact, this bow lasts longer than many people expect it to. Just like the high-end brands, the riser and cams of this bow are made using aluminum. Unless you are intentionally trying to damage these parts, they may last a lifetime. The limbs, on the other hand, are made using fiberglass. This is another durable, yet lightweight material.
The draw weight of this bow is adjustable. When you are using the SAS Outrage, you can shoot with a poundage of 55 lbs to 70 lbs. If you do not feel like taking down big game, you can set the draw weight to the lowest setting and increase it when you are feeling tough. You can also adjust the draw weight to make your SAS Outrage suitable for use by kids. For beginners, this bow is just what you need. As you become a better archer, you can increase the poundage to the maximum setting instead of buying a more powerful bow.
The draw length is adjustable. There are two benefits of having adjustable draw length. First, you can share this bow with your kids (or partner) if you have different draw lengths. It makes a great family bow. The second benefit is that if you buy this bow for your child, they will be using it even when they are adults. They will grow with it in size and experience. The range of draw lengths will accommodate them as kids and still remain comfortable when they are grown, no matter how tall they get.
The speed is great. The SAS Outrage may not be the fastest bow you come across but it is fast enough. You also have to consider the price. This is one of the few costs you will have to bear for getting an affordable bow. Expensive compound bows have a speed of 310 FPS to 315 FPS. The difference is not that great. With 270 FPS, you still have a powerful bow in your hands. Your hunting experiences will be just as powerful.
Finally, you have three colors to choose from. The three available colors are suitable for all forms of archery. They all look amazing so it is a matter of preferences. If you prefer a classy piece, the black one will suit you. If you want something gorgeous then go for the autumn camo. If you want to appear tougher than you actually are, then maybe go for the green camo.
The Downside of the SAS Outrage
It is heavy. The SAS Outrage weighs 4.4 lbs. When hunting, you want to be as light as possible. You never know how long it will take before make your kill. That said, it is always better to have a light bow and a light bag. You may be holding your bow for longer than you anticipated and if it is heavy, you may end up with sore arms. This bow is heavier than most bows and some hunters will prefer to stay away from it. However, before you rule it out, understand that heavier bows have their advantages. They are not as noisy as their lighter counterparts.
Left-handed archers cannot use this bow. It is not difficult to see that left-handed archers have limited choices when it comes to bows. There are not enough brands out there that offer bows for both hand orientations. This, obviously, is not fair. Left-handed shooters would also want to have a wide range of options. Southland Archery Supply makes bows for both right and left-handed archers. Unfortunately, the SAS Outrage is one of their few models that are only available for right-handed archers.
If you are the kind of archer who depends on manuals to set up your bow, you will have a hard time setting up the SAS Outrage. The included manual is no good and you might have to resort to YouTube. Worse still, there is little information about the bow on the manufacturer's website. On the brighter side, the setup process is easy and straightforward. If you are unsure of yourself, please go to an archery store and have them set it up for you. The last thing you need is an unsafe compound bow around your house.
What Users Are Saying
Customers could not be happier.
Since this bow is advertised as a beginner bow, most of the people that bought it are newbies. They say that this bow has been nothing short of awesome. Concerning the setup process, most of them had to take it to an archery shop for set up (which is a wise thing to do).
They appreciate the Pro Package which is a time (and money) saver for most of them. Some beginners say that they would not have known what to buy. The only problem they have is that the accessories are not pre-installed.
The SAS Outrage, according to users, shoots accurately and is also pretty powerful. They highly recommend it for newbies and even seasoned archers on a budget.
Some users appear to have received faulty bows.
ALSO READ: SAS Scorpii Bow Review
Conclusion
If you are in the market for a new bow, there is no reason to break the bank. Southland Archery Supply has been offering archers with quality bows at affordable prices for a very long time. Even though there is not much information about the company on their website, they are reputable. The SAS Outrage is made using heavy-duty materials by experienced developers. It is accurate— prepare to be impressed. It has awesome features that make you wonder why it is not expensive. For anyone looking for a fantastic deal, this is it.