Archery is quickly making a comeback as a cool outdoor sport. The equipment has been modernized to enhance performance and give it a more modern look. Archery, like any other physical activity, is not just something that you do to pass time—although that could be one part of it. It may not be vigorous but you get to stretch your muscles and learn useful skills that not only make you a better archer but an all-around healthy human being. If you are still not sure whether it is the right activity for you, just try it.
Being a great archer starts with having the right bow. Keshes Archery is famous for making great recurve bows. This article focuses on the Keshes Takedown 62" recurve bow. This affordable bow is suitable for archers of all levels, right from beginners. Made with some of the best materials, it has been given a great finish that makes it look even more appealing. It is a durable piece that will give you the best archery experiences for a long time.
Read on to see what the Keshes Takedown 62" has to offer.
Quick Summary of Features And Specifications
Comes in a complete set of all you need (including tools)
Ergonomically designed riser and comfortable grip
Features pre-installed brass bushings for future upgrades
Options for both right and left handed archers
100% money-back guarantee
Maximum draw length is 29"
Comes with a step by step set up manual
Takedown feature allows you to alter draw weight
Lightweight and portable
Detachable wooden limbs have a black fiberglass coating
Includes sight as a bonus
Closer Look At The Features And Specifications
The Keshes Takedown 62" recurve bow comprises of all the things you need to start shooting right away. The package includes a riser with well-finished edges, wooden limbs coated with a layer of black fiberglass, knob screws for attaching the riser to the limbs (you will not need tools), a 16-strand Dacron bowstring, a stringer tool to help with the assembly, stick-on arrow rest and a sight to help you aim perfectly. For the price, this is a great deal.
The grip is super comfortable and it will feel as if it was made perfectly for your hand. The riser is ergonomically built with smoothly rounded edges and a finely polished wood handle that promises a smooth archery experience. It really matters to have a comfortable grip because you will be holding your bow most of the time. Keshes Archery put much thought into this and made just the perfect riser grip for every archer out there.
This recurve bow comes with already installed brass bushings to allow for future upgrades such as stabilizer, quiver, brass plunger, sight, and even bow fishing. The Takedown feature also makes it possible to change the limbs and increase or decrease the draw weight. Being able to customize your bow and upgrade it makes it more personal which translates to you being a great archer.
The Keshes 62" is available for both right and left handed people. A good number of the world population is right-handed. This is probably why most manufacturers never consider the left-handed folks when making their products. Keshes Archery, however, wants every archer to have a bow that gives them an easy time while shooting. So, if you are left-handed, there is no need to try and adapt to a right-handed bow, get a left-handed one that feels just right for you.
Keshes Archery promises you 100% satisfaction. The manufacturer assures you beyond reasonable doubt that you are going to love the Keshes 62". It has been made to suit the needs of any archer and even offers room for customization. But what if you do not like it? If there is something about it that does not make you happy, you can confidently return the bow and you will have 100% of your money back. Do not worry, though, you will most definitely enjoy using it.
The Keshes 62" is made to last. To begin with, it has a 14-strand Dacron bowstring, properly waxed. The bowstring is usually one of the parts that wear out quickly. The string on this bow will take at least five years of consistent archery before you will need to change it. The wooden handle can take anything you throw at it. The fiberglass coating on the limbs will ensure that they endure years of use and abuse.
This bow is lightweight and perfect for traveling with. As much as it is made from heavy-duty materials, the Keshes 62" is a very light piece of equipment and anyone can carry it around without straining. Moreover, it is a takedown recurve bow and can be collapsed into smaller pieces and put in a bag for transport. The process of collapsing and assembling the bow is effortless—it will not frustrate you.
Why You Should Buy The Keshes Takedown 62" Recurve Bow
You can choose the hand orientation that works for you. Whether right-handed or left-handed, you have the freedom to get the one that works best. Even if you are not sure, try the two and see which one makes you shoot more comfortably. With the Keshes 62", if your archery skills are less than impressive, you will have to find something (or someone) else to blame—just not the bow.
It is affordable and comes with everything you need. Money does not grow on trees. This is a very old line but it remains true. Spending is fun, but the same can barely be said about looking for the money to spend. Whenever you are buying something, you want to be sure that it is worth every cent. The Keshes Takedown 62" is worth its price, and more. It is ultra durable and its set has all you need for your first day of archery.
It allows for customization and upgrades. Most products are generic. Even the Keshes 62" is meant for any archer, anywhere on the planet. Although it is a fantastic bow, you will love it more when it feels personal. Well, thanks to the Takedown feature, you can change the limbs and alter the draw weight as you please. The pre-installed brass bushings also let you make any upgrades you may deem necessary resulting in a bow that is just the way you like it.
It has an ergonomic design. The riser has well-rounded edges and a smooth wooden handle—as already mentioned in the features— which is really necessary for archers who enjoy long hours of archery. At the end of the day, your hand will be okay, with no hints of soreness, and ready to go shooting the next day.
Its Downside
The instructions manual will give new archers a hard time. If you are conversant will archery lingo, it will be easy to follow the steps outlined; otherwise, you may need to just save time and effort by looking for a tutorial on YouTube.
What Users Are Saying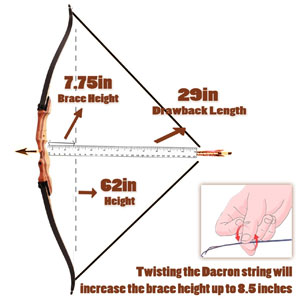 The Keshes Takedown 62" has garnered a ton of reviews, with almost all of them being positive. Most people have bought the bow for their kids or grandkids while others bought it for themselves. Needless to say, it has exceeded their expectations.
Archers are happy to have the sight and stringer included in the set. The riser indeed has fine edges that make the shooting smooth and enjoyable. The setting up part is so easy if you follow the instructions (or YouTube for total newbies as discussed above). The limbs and riser fit perfectly with each other. In the field, the bow is really efficient and will not be the reason you miss a target. A good number of archers highly recommend it.
Our verdict
The Keshes Takedown 62" recurve bow is an awesome bow. Its durability is anything but questionable, given the quality of materials used to make it. Pre-installed brass bushings make it possible for you to upgrade the bow later while the changeable limbs will let you change the draw weight. This recurve bow also comes with accessories and tools, saving you money and effort. The 100% satisfaction guarantee should give you enough confidence to try this amazing bow. Besides, you will not even have a reason to return it.